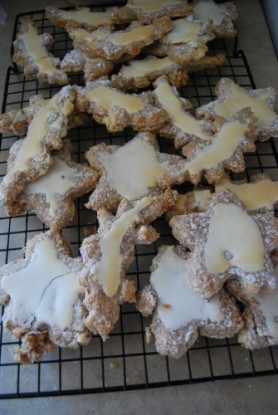 Difficulty: Easy
Servings: 24-36 cookies
Prep Time:
15 mins
Cook Time:
15-20 mins
Ingredients
3 egg whites
2 Tbsp lemon juice
pinch salt
375g (3 cups) confectioners sugar, plus extra for rolling
1 Tbsp ground cinnamon
500g (5 cups) almond meal
Directions
1. Adjust oven rack to middle position and preheat to 325F. Grease two baking sheets or line with parchment paper.
2. Beat egg whites, lemon juice and salt until stiff peaks form.
3. Add confectioners sugar, mix until smooth.
4. Remove 3-4 TBSP egg-sugar mixture and chill (this will make the glaze).
5. Add almond meal and cinnamon to remaining egg-sugar mixture, mix well.
6. Generously sprinkle confectioners sugar on counter, roll dough do 1/4″ thickness. Cut out with cookie cutter (6-point stars are the traditional shape) and place on cookie sheet. ALTERNATIVELY, roll dough into 3/4″ ball, toss in confectioners' sugar and place on cookie sheet. Smoosh down with a drinking glass (or something else flat).
7. Spread small amount of chilled egg-sugar mixture on cookies.
8. Bake @ 325F for 15-20 minutes, until glaze starts to turn golden and cookies are still soft in the middle.
9. Cool on wire rack.
Categories: Appetizers & Snacks, Cookies & Bars, Desserts, Gluten-Free, Holiday, Lactose-Free, Low-Fat, Low-Sodium, Special Diets, Vegetarian
Tags: Christmas Cookie, German
Submitted by: xlibbax on April 4, 2012