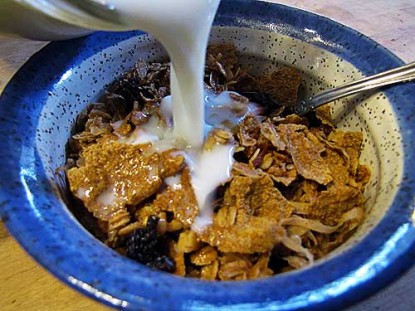 Difficulty: Easy
Servings: many
Prep Time:
15 minutes
Cook Time:
30 minutes
Ingredients
6 cups oats
1 cup coconut
1 cup walnuts
¾ cup maple syrup
¾ cup vegetable oil
¾ cup brown sugar
1 teaspoon cinnamon
2 teaspoons vanilla
6 cups bran flakes
1 cup raisins
1 cup chopped dried cherries
Directions
If you don't want to make this cereal granola style, omit the syrup, oil, brown sugar, cinnamon, and vanilla coating mixture. Just toast the oats, coconut, and nuts for about 15 minutes at 350. When cool, add the bran flakes and dried fruit. Toss with a little sugar when serving, if desired.
To make it granola-style, combine everything but the bran flakes, raisins, and dried cherries in two 9 x 13 pans. Stir to coat evenly and spread out in the pans. Toast until dry, checking and stirring frequently. If you toast at 225 degrees, it will take an hour or more. If you toast at 350, it will be done in about 30 minutes. Beware that if you toast at the higher temperature, you have to be vigilant at checking and stirring, and removing from the oven when it's dry. You don't want to burn it. Cool before combining with the bran flakes and dried fruit then store in an airtight container.
Categories: Breakfast, Budget, Cereals
Submitted by: suzanne-mcminn on March 10, 2011