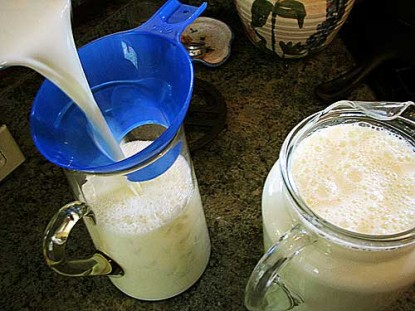 Difficulty: Easy
Servings: 1/2 gallon
Prep Time:
24-48 hours
Ingredients
1 cup raw almonds
7 – 8 cups water
Agave nectar or another sweetener (optional)
Directions
Place almonds in a bowl and cover with water. Cover with a towel and let sit in a cool place for 24 – 48 hours. Rinse the almonds once a day, and if you are soaking for more than one day cover the almonds with water again. The almonds will become quite plump.
Pour off the water from the almonds and rinse well. (The soaking water will likely contain enzyme inhibitors which may not be advisable to consume.) Place the rinsed almonds into a blender. Add the 7 – 8 cups of water. Blend for a few minutes to blend well. Add sweetener if using.
Strain the almond milk through a bag strainer or fine sieve into a bowl or other large container. As you are straining it you will be getting a lot of almond meal which can be dehydrated, turned into flour, or mixed it into baked goods, cereals, even eggs.
Strain it again into your final pitcher or container. Produces about a half gallon almond milk. Stores in the refrigerator for about a week. Stir the almond milk before each use.
Categories: Beverages, Diabetic, Lactose-Free, Non-Dairy, Vegan, Vegetarian
Submitted by: pete on April 24, 2010