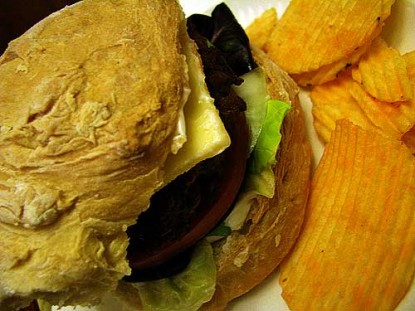 Difficulty: Easy
Servings: 6 - 10 buns depending on size
Prep Time:
1 hour 15 min
Cook Time:
20 - 25 min
Ingredients
1 1/2 cups warm milk* or water
1 teaspoon yeast
1/2 teaspoon salt
2 tablespoons sugar
1 egg*
1/3 cup oil*
4 cups flour
Directions
*Any time you add egg or oil to Grandmother Bread, calculate the add-ins in the quantities listed here. Per one-loaf standard recipe, add 1/3 cup oil and 1 egg, with about 1/2 cup more flour. Per two-loaf standard recipe, add 2/3 cup oil and 2 eggs, with about 1 cup more flour. When using milk, replace the water in the recipe with an equal amount of milk.
In a large bowl, combine milk or water, yeast, salt, sugar, egg, and oil. Let sit five minutes. Stir in the first cup and a half of flour with a heavy spoon. Add the next cup of flour a little at a time as needed, stirring until dough becomes too stiff to continue stirring easily. Add a little more flour and begin kneading. The amount of flour is approximate–your mileage may vary! Continue adding flour and kneading until the dough is smooth and elastic. Let dough rise in a greased, covered bowl until doubled. (Usually, about an hour.) Uncover bowl; sprinkle in a little more flour and knead again.
Shape into hamburger or hot dog buns (or even sub rolls!). Brush egg white over the tops if you want to add sesame seeds, minced garlic, or sauteed minced onions. Let rise again about 30 minutes.
Bake at 350-degrees, approximately 20-25 minutes. (Baking time depends on size of buns.) If I add cheese to the top of the buns, I pull the buns out after about 10 minutes and top with shredded cheese then put them back in the oven.
You can, of course, also make buns without adding egg, oil, or milk, using the traditional Grandmother Bread recipe (and standard flour measure). The texture is more rustic and I love buns this way, too. However, if you have little kids who might whine expecting more of the store-bought texture to their hamburger and hot dog buns, or just if you prefer that texture, egg, oil, and milk is what will do it.
Categories: Breads, Yeast Breads
Submitted by: suzanne-mcminn on August 27, 2010