I miss my Granma. She was such a kind, gentle soul and I have only sweet, happy memories about her. I will always have those memories, but I am also coveting something quite tangible that I have from her. Cookbooks. And not just any cookbooks, but the Woman's Day Encyclopedia of Cookery. The whole set, all 12 volumes.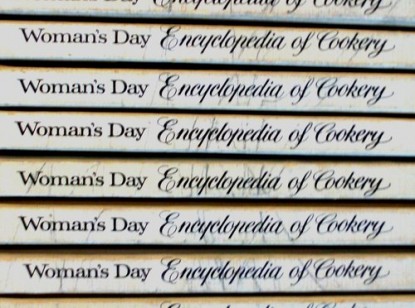 Having an entire encyclopedia set on cooking and entertaining must have imbued her with a deep wealth of knowledge, truly making her an expert in all things domestic. I look at the set on my cookbook shelf and think back to the days when she originally got them–I'm not really sure of the circumstances, but this is what I imagine in my head. A fairly young housewife, still trying to figure out how to balance everything, kids and toddlers in tow, cookbooks of the era (1966) must have held so much promise to help keep it all together, how to keep mealtime interesting and maintain the appearance of domestic excellence.
Not only does this set include a variety of recipes (casseroles, three pages of spaghetti, gumbo, poundcake), it includes cuisines from various countries and cultures (Jewish, Polynesian, Finnish), definitions ("Orangeade – Fresh, frozen, canned, or dehydrated orange juice mixed with sugar to taste…"), different types of cooking methods (canning, broiling, pan-frying), information on how to entertain (what to cook for picnics, how to make garnishes, intimate luncheon for 6), and what should be prepared on holidays.
Of all the wonderful things about this set, I have two favorite things. The first is finding handwritten notes or recipes from Granma. Oh, what a treasure! I know that my memories of her are most important, but seeing her words written down are like she's sitting next to me, sharing her tips and knowledge.
The second is the smell of the books. Is that weird? Okay, I'm weird. There is just the slightest aroma of my Great Granma's root cellar. I just love the smell of a root cellar and the fact that it is Great Granma's makes it even better. That makes me super weird, I know. I'm just going to embrace it.
I wish I had more time to go through these books more often, either looking for recipes, or just basking in their excellence. Who knew there were so many things to do with onions or frankfurters or aspic or toast!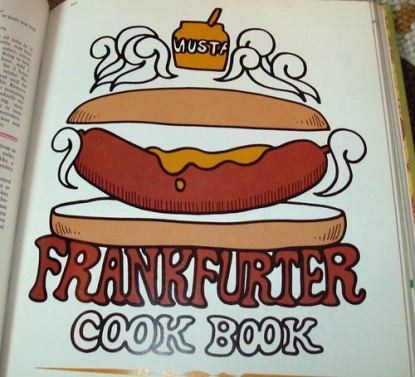 There was a totally different idea of what was healthy back in those days…some of the recipes we only use occasionally, due to the (yummy) fatty ingredients. Here is an easy casserole from the Woman's Day Encyclopedia of Cookery: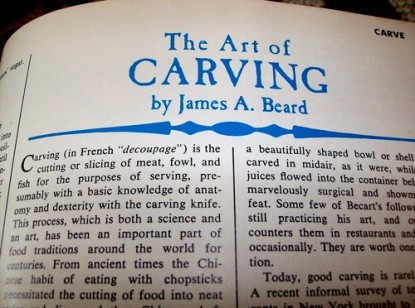 How to make Crusty Beef, Cheese and Noodle Casserole:
2 tablespoons vegetable oil
1 onion, chopped
2 pounds ground beef
4 cans (10 1/4 ounces each) meatless mushroom sauce (for spaghetti)
1 teaspoon salt
1 pound fine noodles, cooked and drained
1 pound sharp Cheddar cheese, grated or shredded
seasoning salt
Heat oil; add onion and cook until golden. Add meat and cook until meat loses its red color, stirring. Add mushroom sauce and salt, heat. Arrange in casserole half of noodles, half of sauce and half of cheese; sprinkle with seasoning salt. Make another layer of noodles; add sauce and top with cheese. Bake in preheated moderate oven (325°F.) for 1 hour. Top should be nicely browned. Makes 8 – 10 generous servings.


Get the handy print page and save this to your recipe box here:
Crusty Beef, Cheese and Noodle Casserole.
Farmershae blogs at The Broken Badger.

Do you have a recipe post or kitchen-related story to share on the Farm Bell blog?
See Farm Bell Blog Submissions for information, the latest blog contributor giveaway, and to submit a post.

Want to subscribe to the Farm Bell blog? Go here.