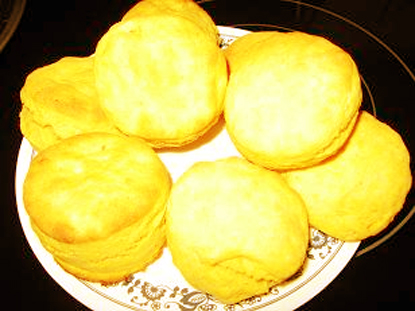 Difficulty: Easy
Servings: 10-12
Prep Time:
15 minutes
Cook Time:
10-12 minutes
Ingredients
2 cups self rising flour
1/8 tsp salt
1/4 cup butter
1/4 cup lard
1 cup mashed sweet potatoes
4 to 5 Tbsp milk
Directions
In a bowl, combine flour and salt. Cut in butter, lard and sweet potatoes until mixture resembles coarse crumbs. Stir in enough milk  just until dough clings together. Knead on floured surface.
Roll dough to 1/2-in. thickness. Cut with biscuit cutter and place on lightly greased baking sheet.
Bake at 450 for 10-12 minutes or until golden brown.
Submitted by: tsmith on May 14, 2010