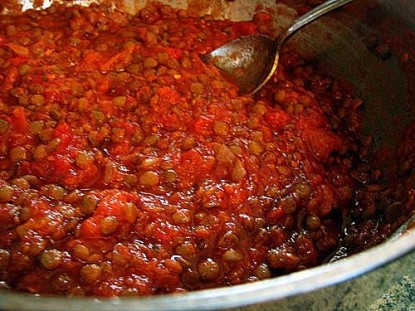 Nikki & David Goldbeck's American Whole Foods Cuisine
. It is a very fast sauce. It has a texture and sense about it that feels almost
meaty
. (It's a very thick, hearty sauce.) It's great over pasta, as a sloppy joe substitute, or a filling for (cheese-free if going vegan) calzones.
Difficulty: Easy
Servings: 6-8
Prep Time:
10 minutes
Cook Time:
20 minutes
Ingredients
1 1/2 cups dry lentil beans
3 cups water
1/2 cup chopped onions
1 pint tomatoes, chopped, drained
6 ounces tomato paste
2 teaspoons sugar
2 teaspoons garlic salt
1 teaspoon Italian herbs
1 teaspoon crushed red peppers
1/2 teaspoon ground red pepper
Directions
Rinse and drain lentils. Add water and onions. Bring to a boil then simmer covered for about 20 minutes. Add tomatoes, tomato paste, and everything else to taste. (Start with smaller quantities of the seasonings than I have listed here. This is how I like it. Season it how you like it.) Simmer a few more minutes as you stir in the tomatoes and seasonings–and you're done!
Categories: Beans, Beans, Grains & Rice, Budget, Fat-Free, Main Dish, Non-Dairy, Sauces, Special Diets, Vegan, Vegetarian
Submitted by: suzanne-mcminn on January 16, 2011