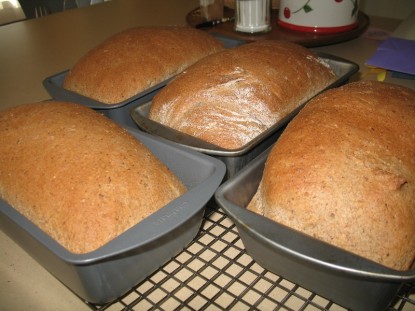 Difficulty: Easy
Servings: 4 loaves
Prep Time:
60 minutes (including rise time)
Cook Time:
40 minutes
Ingredients
6 cups water
1/2 cup sugar (or honey)
2/3 cup canola oil
2 tablespoon salt
2 tablespoon vital wheat gluten
4 tablespoon Kitchen Specialties dough enhancer
1 cup flax seed meal
1/2 cup wheat bran
2 cup quick cooking oatmeal
2 cup whole wheat flour
10 cup whole wheat flour
Directions
This recipe is written for use with the Bosch Universal mixer. If you don't have a Bosch, you'll want to reduce the quantities and allow for 2 risings, punching down in between.
Attach dough hook. Place water, sugar, oil, salt, yeast, vital wheat gluten, and dough enhancer into mixer bowl. Mix on slow speed (1) for one minute. Add flax seed meal, wheat bran, oatmeal, and 2 cups of whole wheat flour. Mix on med speed (2) for one minute. You may let this mixture sit for 10-30 minutes to "sponge" if desired.
While mixing, Add 8-10 more cups of whole wheat flour, until dough pulls cleanly away from the sides. Knead on medium speed (2) for 8 minutes.
Remove dough from bowl to greased or floured surface. Shape into 4 loaves and place into lightly greased bread pans.
Let rise for 40 minutes.
Bake at 350 degF for 40 minutes. Remove from pans immediately and let cool on wire rack.
Categories: Breads, Yeast Breads
Submitted by: sahmcolorado on May 14, 2010