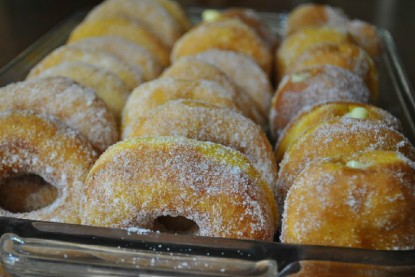 Difficulty: Intermediate
Servings: varies by size
Prep Time:
2 1/2 hours
Cook Time:
varies
Ingredients
1/2 cup warm water
2 tablespoons yeast (2 packages)
2/3 cup warm milk
2 eggs
1 1/2 cups pureed pumpkin
2 tablespoons vegetable oil
6 1/2 cups flour
1/2 cup brown sugar
2 teaspoons salt
1/2 teaspoon ground ginger
1/2 teaspoon ground cardamom (optional)
Directions
In the bowl of a stand mixer, pour the yeast over the warm water to proof. When it's proven that the yeast is still in fact alive, add in the milk, eggs, pumpkin, oil, 4 cups of the flour, sugar, salt, ginger, and cardamom (if using). Beat for 2 minutes. Change over to the dough hook and incorporate enough flour to make a nice ball. Turn it out onto a well floured counter and knead until smooth and elastic.
Place the dough into a greased bowl and loosely cover with plastic wrap. Let rise for 1 hour, or until doubled.
Roll it out to a little over 1/4 inch thick and cut your donuts. I use a wide mouth canning jar and the cap off of my bottle of homemade vanilla (so, the cap off of a half gallon of vodka). The ones I was going to fill with cream, I just cut with a wide mouth jar and didn't cut the hole out of the center. Place the cut out donuts onto a greased cookie sheet and cover loosely with plastic wrap. Let rise for 45 minutes, or until almost doubled.
Heat oil in a large, heavy pot. I use the bottom of a 12-inch cast iron dutch oven to fry my donuts. Heat oil to 325 degrees and fry until donuts are golden brown on the outside and completely cooked through on the middle. For me, this means medium heat on my electric stove. It's going to be a little different for everyone though.
Let drain on a cooling rack over a cookie sheet and roll in cinnamon/sugar while still warm. For the regular donuts, that's it. You're done. For the donuts with filling, we have one more step.
Fit a pastry bag with a medium sized round tip. Fill the bag with Bavarian cream. (I can buy it at the grocery store where I shop. I can also buy all the fruit fillings that you can use in cakes and pastries there. Ask at your bakery counter if you don't see it. Often they will sell it to you.) and poke the tip through the end of one donut. Gently squeeze the bag and fill the donut with cream. Not too much, or it will explode! After just a couple, you'll know how much to pipe in.
Categories: Breads, Breakfast, Desserts, Doughnuts, Entertaining, Holiday, Kid-Friendly, Other Breads, Pastries
Submitted by: charleycooke on November 20, 2012