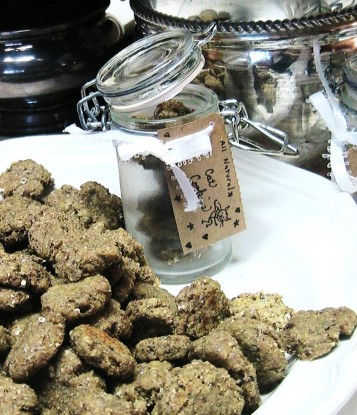 Difficulty: Easy
Servings: 24 approximately
Prep Time:
10 minutes
Cook Time:
10-20 until brown
Ingredients
7 ounces of Mashed Sardines (you can also use Tuna, Chicken, Mackeral, Turkey, etc as long as it is ground or in very small pieces…whatever your kitty prefers)
1/4 cup of Dry Non-Fat Powdered Milk
1/2 cup of Wheat Germ
Directions
Preheat oven to 350 degrees.
Mix Mashed Sardines, or whatever protein you would like with 1/4 cup of dry powdered non-fat milk and the 1/2 cup of wheat germ. Mix ingredients well.
Roll into approximately 24 balls, place on greased cookie sheet and flatten with a fork.
Bake at 350 degrees until brown. Let cool, then give to those special kitties or wrap up for kitty kids who need them for a present.
***For CATS ONLY***
Categories: Pets
Submitted by: anghaley on December 5, 2010