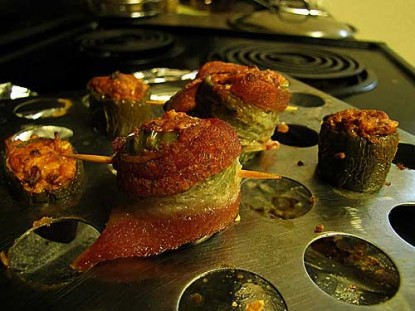 Difficulty: Easy
Servings: 1-2 dozen
Prep Time:
10 minutes
Cook Time:
45 minutes
Ingredients
24 jalapeno peppers
3 ounces cream cheese
1/3 pound chorizo or other sausage
24 thin strips of bacon
24 toothpicks
Directions
Cuts the tops off the jalapenos; remove seeds and membrane. Reserve seeds. Brown sausage. Mix cream cheese and sausage in a bowl. Add as much reserved seeds as you want to control the heat. Stuff jalapenos with mixture. Poke stuffed jalapenos in a jalapeno poppers grill pan. Wrap one slice of bacon around the upper half of each jalapeno. Secure with a toothpick.
Bake at 350-degrees for 45 minutes or place on the grill!
You can use diced shrimp, crab, or other meat instead of sausage, also add herbs and seasonings if you wish. You can also mix in 1/4 cup shredded cheese, such as cheddar, or sprinkle some shredded cheese on the tops.
*Bacon is optional. You can leave it off if you like.
Categories: Appetizers & Snacks, Entertaining, Grill-Outdoor Cooking
Submitted by: suzanne-mcminn on July 27, 2010