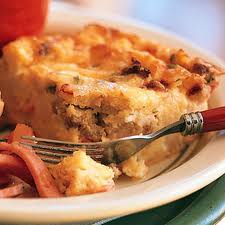 Difficulty: Easy
Servings: 8
Prep Time:
12 hrs.
Cook Time:
50 min.
Ingredients
Cooking spray
12 oz. dried Spanish chorizo, chopped
2 jalapeño chiles, seeded and chopped
1 cup mild salsa
1 tsp. ground cumin
1 tsp. dry mustard
12 slices whole wheat bread, crusts removed
12 oz. Monterey Jack or sharp Cheddar cheese, shredded
8 large eggs
2 cups 2% milk
Directions
Coat a 13 x 9 inch baking pan with cooking spray.
Combine chorizo, jalapeno, salsa, cumin and mustard.
Lay 6 slices bread in baking pan. Spread chorizo mixture evenly over bread, sprinkle on half the cheese, and top with remaining bread slices.
Whisk eggs and milk in a large bowl until smooth. Pour over casserole, top with remaining cheese. Press down with a spatula to soak bread. Cover and refrigerate overnight.
Preheat oven to 350F.
Bake, uncovered, 45-50 minutes, until puffed and brown and a toothpick inserted into the center comes out clean. Let stand 5 minutes before serving.
Categories: Breakfast, Casserole, Egg Dishes
Submitted by: peach106 on July 27, 2010