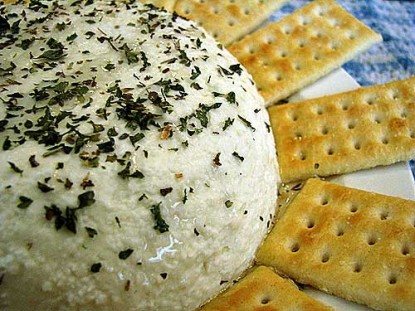 New England Cheesemaking
.
Difficulty: Easy
Servings: 1 pound
Prep Time:
30 minutes
Ingredients
1/2 teaspoon calcium chloride (only if using store milk)
1 1/2 level teaspoons citric acid dissolved in 1/2 cup cool water
1 gallon whole milk
1/4 teaspoon lipase powder (Italase) dissolved in 1/4 cup cool water (for 20 minutes prior to using)*
1/4 teaspoon liquid rennet diluted in 1/4 cup cool (unchlorinated) water*
cheese salt to taste (recommended, 1 teaspoon)
Directions
This cheese is best made with farm-fresh or local milk, either slow pasteurized (at 145 degrees for 30 minutes) or used raw. If you're using pasteurized store-bought milk, add 1/2 teaspoon calcium chloride directly to the milk when you put it in the pot. Do NOT use ultra-pasteurized milk.
*Do not add lipase if using milk from the store. It will make your curds too soft.
Step 1. If using store milk, add the 1/2 teaspoon calcium chloride directly to the milk when you put it in the pot. While stirring the milk constantly, add the citric acid solution.
Step 2. Begin heating the milk, continuing to stir, until it reaches 90 degrees.
Step 3. Stir in the diluted lipase. Mix thoroughly then stir in the diluted rennet with an up-and-down motion. If using raw milk, continue heating (stop stirring) the milk to 100-105. Turn off the heat and let sit for 5 minutes before transferring to a bowl.
If using store-bought milk, after adding the rennet at 90, turn off the heat and let sit for 5 minutes. Check the curd. If it's too soft, let it sit a few more minutes. Cut the curd into 1-inch squares with a knife that reaches the bottom of the pot. Place the pot back on stove and heat to 105 while stirring slowly. Take it off the heat and continue stirring slowly for 2-5 minutes before transferring to a bowl.
Step 4. Scoop out the curds with a big slotted spoon and put them in a microwavable bowl. I used a 2-quart glass bowl with a pour spout. You'll still have a lot of whey mixed in with the curds. The curds will be soft, yogurt-like. Press on the curds with the spoon, pouring off the whey. As the curds sit in the bowl and you press on them, more and more whey will come out. Keep pouring it off.
Step 5. Put the bowl of curds in the microwave and heat on High for 1 minute. Take the bowl out and work the curds as if you are making bread dough, folding it over and over, gently kneading it. You could use rubber gloves to do this (the cheese will be very hot!) or a sturdy spoon. I don't like rubber gloves much, and I've found a sturdy spoon works just fine. If there's more whey (and there will be), pour it off. Heat the bowl again, on High, this time for 35 seconds. Pour off any excess whey again. Knead it, with rubber gloves or using a spoon. Heat it again, for 35 seconds, on High. If there's still any extra whey, pour it off.
By this time, you should have all the excess whey out. Add cheese salt to taste and knead in. How do you know when it's done? When the cheese is smooth and shiny, and most important–stretchy.
You can slice it warm and eat it right away, or put it away it to use later. For the smoothest texture, put the cheese immediately in a bowl of ice water for 20-30 minutes to chill it down quickly then drain it and use or store in the fridge.
Categories: Dairy, Homemade Cheese, Soft Cheeses
Submitted by: suzanne-mcminn on May 21, 2011