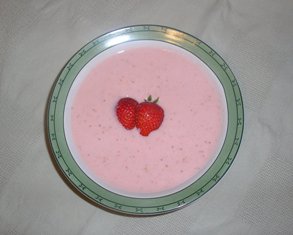 Difficulty: Easy
Servings: 2-3
Prep Time:
15 minutes
Ingredients
1 qt. fresh strawberries, tops removed
1/2 c. sugar
16 oz. whole milk (you can use cream, if you prefer)
2 oz. sour cream
3 oz. strawberry yogurt
Directions
Put strawberries (with tops removed) in a bowl. Pour sugar over top and allow to sit for 10-15 minutes. Meanwhile, assemble your ingredients. Put half the strawberry/sugar mixture and half the milk in a blender. Blend until smooth. Add remaining ingredients, and blend until smooth. Serve cold!
Categories: Cream Soups, Fruits, Kid-Friendly, Other Dairy, Other Soups & Stews, Vegetarian
Submitted by: kaiyazmom on January 16, 2011