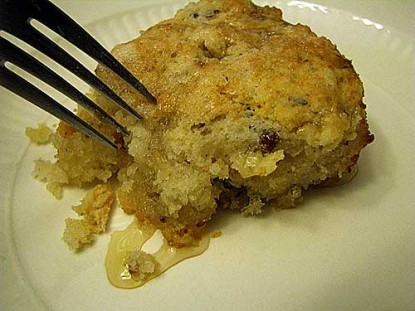 Quick Mix
, or your own favorite baking mix–or if you don't keep baking mix on-hand, you can make it by the batch, so I've included the recipe from scratch.
Difficulty:
Ingredients
2 1/2 cups all-purpose flour
3 teaspoons baking powder
2/3 cup sugar
1/2 teaspoon cream of tartar
1/2 teaspoon salt
3/4 cup shortening or lard
1 cup crushed or finely chopped pecans
1 cup milk
1/2 cup butter, melted
1/4 cup honey
several more tablespoons of sugar (for dusting the tops)
Note: To use a baking mix, replace first 5 ingredients with 2 3/4 cups baking mix, adding 1/4 cup sugar.
Directions
Place first 5 ingredients (or baking mix plus sugar) in a large bowl and work in the lard or shortening with a pastry cutter. Add the pecans next, before adding the milk, to be sure to get them well blended into the mixture.
Pour in the milk and stir. Knead the dough lightly, adding a little extra flour if needed to keep it from sticking too much, but this is a moister biscuit dough than usual. Roll dough out onto a floured surface and cut out your biscuits. For me, it made 12.
Lightly grease a medium-size cast iron skillet or other baking pan (with sides). Melt butter in a small bowl and stir in the honey. Pour half of the butter-honey mixture into the skillet and load in the biscuits. Poke a hole halfway down into the middle of each biscuit. (I used the handle of a spoon.)
Pour the other half of the butter-honey mixture over the tops of the biscuits, making sure to get some into each hole.
Dust the tops of the biscuits with more sugar. Just because. Now you can either put the pan in the fridge, covered, and bake in the morning, or bake them right away.
Bake at 450 degrees for 15-20 minutes. These biscuits are so moist with the butter and honey, they take a little longer to bake. (If you have refrigerated the biscuits overnight, they will also take a little longer to bake.)
You may want to just drizzle some more honey on top and eat this baby with a fork.
These biscuits were every bit as ridiculous (as in ridiculously delicious) as I'd hoped!
Submitted by: suzanne-mcminn on February 2, 2011