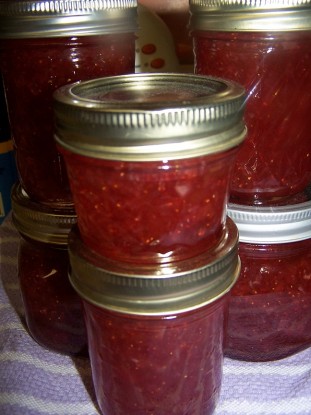 Difficulty: Easy
Servings: About 7 1/2-pint jars
Prep Time:
1 hour
Cook Time:
30 minutes
Ingredients
1 pound of rhubarb stalks
1/4 cup water
2-1/2 cups crushed strawberries
6-1/2 cups sugar
1/4 teaspoon butter (will help keep the foam down)
1 pouch liquid pectin
Directions
Clean the rhubarb and slice it thin. (Like you would do celery for a recipe).
Place it in a pan and cover it with the 1/4 cup water. Cover and simmer until the rhubarb is tender.
To prepare the strawberries, I clean and hull them, and then I put them in my food processor and pulse briefly. You could crush them with a potato masher if you don't want to process them.
Prepare hot, sterilized jars and lids. I usually just put my jars and rings in the dishwasher, then use the plate-warmer setting to keep them hot. To prepare the flat lids, bring a small saucepan of water to a boil, then turn it off and drop the lids into the water to sit until you are ready to place them on the jars.
Measure out one cup of the rhubarb, and combine it with the strawberries, sugar, and butter in a kettle. With the mixture on high heat, stir constantly to bring it quickly to a full boil that cannot be stirred down. Boil hard for 1 minute, stirring constantly. (At our altitude — 5,280 ft. — I find I sometimes need to bowl hard for 2 minutes).
Remove from the heat and stir in the pectin. Skim the foam off if there is any.
Put the hot jam immediately into hot, sterile jars, leaving ¼ inch headspace. Wipe the rims and threads of the jars with a dampened clean cloth or paper towel. Use the two-piece metal canning lids.
Process in a boiling water bath canner.
0-1000 ft. = 5 minutes
1001-6000 ft. = 10 minutes
above 6000 ft. = 15 minutes
Let the jars sit undisturbed on a towel on the kitchen counter. It is fun to hear them "ping" as they seal.
Categories: Boiling Water Bath, BWB Jams, Jellies, Butters & Preserves, Canning, Preserving
Submitted by: kathleennoland on May 24, 2011