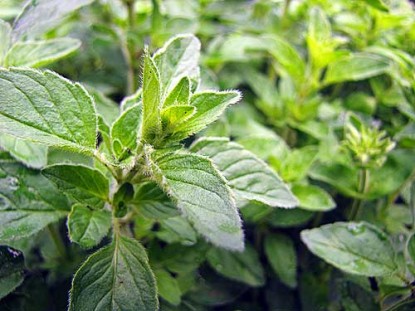 Oregano (Origanum vulgare) means "joy of the mountains" in Greek. It's native to Greece and other Mediterranean countries, and is most popularly known for its oft-starring role in Italian dishes. It's easy to grow and will come back every year. It makes a compact, bushy plant with small leaves that carry a pungent aroma. There is more than one kind of oregano (you can also buy Spanish and Mexican oregano in specialty shops) and marjoram is also a close relation, in the same Origanum family, though it is slightly sweeter than the common oregano. The common oregano you find under the simple label "oregano" is Greek oregano.
While oregano got its start in Greece, it spread to Europe and on to the New World through the Spanish. Across the centuries, it has been used for culinary and medicinal purposes as well as the magical, included in spells for everything from happiness to luck. Put it in a love potion or scatter it around the house to protect you from evil! Much of oregano's magical aura was derived from its supposed creation by the goddess Aphrodite. While I wouldn't put too much stock in any of those ideas, oregano is rich in antioxidants and has anti-inflammatory, antibacterial, and antiviral properties. It's also quite tasty in a variety of savory dishes.
Any herb is best used fresh, but oregano keeps well when dried. Again, as with most herbs, crush the dried leaves as you use them to release the flavor (rather than storing pre-crushed). Oregano is particularly well-suited to tomato dishes (soups, pizzas, lasagnas, spaghetti sauces, etc), and it's also a great dipping herb for breads and cheeses. It pairs well with poultry dishes and is delicious sprinkled on salads. You can substitute oregano and marjoram with each other in recipes when necessary, but remember to use less oregano than you would marjoram as oregano is stronger.
As with any herb, you can make a unique jelly using either the flowers or the leaves.
See all the blog posts in Herbs & Spices.


Do you have a recipe post or kitchen-related story to share on the Farm Bell blog? See Farm Bell Blog Submissions for information and to submit a post.

Want to subscribe to the Farm Bell blog? Go here.