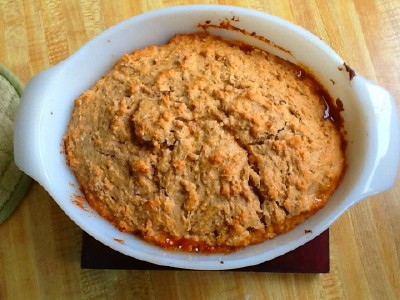 I-have-no-recipe-and-I-don't-care
cakes. We had some apples to use up, so we made cinnamon apple cake with caramelized apples on the bottom. I thought it turned out well for basically making it up as I went. My husband devoured it!
Difficulty: Easy
Servings: 1 casserole-sized cake
Prep Time:
10 min
Cook Time:
35 min
Ingredients
2 cups flour
1 teaspoon baking powder
2 teaspoons cinnamon
1 egg
1/4 cup of oil
2 tablespoons vanilla
1/2 cup of milk
3 apples, chopped
1/4 cup brown sugar
Directions
Stir together the flour, baking powder, and cinnamon. Add egg, oil, and milk. Stir together.
Layer chopped apples into the bottom of a butter casserole dish. Sprinkle brown sugar over top. Dollop the batter on top of the brown sugar and spread out with the back of a spoon
Bake in a 350F over for about 35 minutes.
Submitted by: lisaajb on May 4, 2012