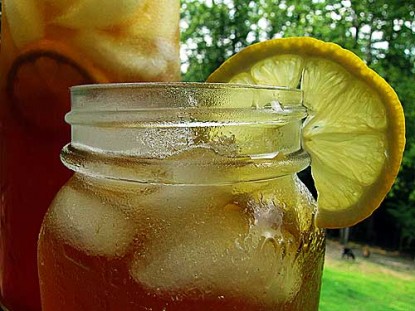 Difficulty: Easy
Servings: varies
Prep Time:
5
Cook Time:
a couple hours
Ingredients
1 cup water
1 cup sugar
1/2 cup sliced, crushed peaches
water
tea bags
1 broken cinnamon sticks
several whole cloves
Directions
Make a syrup of water, sugar and sliced, crushed peaches in a small pot; boil on high until the sugar is dissolved. Let syrup cool then strain liquid to remove peaches. Meanwhile, prepare sun tea by adding several tea bags (depending on strength desired) to 1/2 gallon water. Place broken cinnamon sticks and cloves in a spice ball (or tie up a small cheesecloth bag) and place in the water with the tea bags along with the peach syrup. When sun tea is ready, remove the spice ball. Chill and pour over ice. Garnish with sliced lemons if desired.
Makes 1/2 gallon of spiced peach tea. (Recipe can be easily doubled, tripled, and so on.)
Categories: Beverages, Entertaining, Potluck, Special Occasions
Submitted by: suzanne-mcminn on June 23, 2010