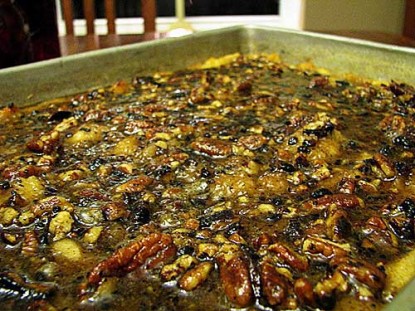 Difficulty: Easy
Servings: many
Prep Time:
20 minutes
Cook Time:
1 hour
Ingredients
4 large eggs
2- 15 oz cans solid pack pumpkin or 2 pints fresh pumpkin puree
1 1/2 cups milk
1 cup half and half
1 cup sugar
1 teaspoon cinnamon
1/2 teaspoon salt
1/2 teaspoon nutmeg
1/2 teaspoon vanilla
10 cups cubed bread pieces
Directions
Whisk everything together but the bread in a large bowl until well blended. Add the bread and stir well to coat. Cover with plastic wrap and chill 8-24 hours.
When you're ready to bake it, spoon the bread pudding mixture into a greased 13 x 9 pan and bake in a preheated 350-degree oven for one hour. Cover the top with foil in the last 15-20 minutes and prepare the caramel sauce topping.
Caramel Pecan Sauce:
1 cup pecans, chopped
1 cup firmly packed brown sugar
1/2 cup butter
1 tablespoon light corn syrup
1 teaspoon vanilla
You need to heat the chopped pecans in a skillet over medium-low heat, stirring often, just until lightly toasted. (Maybe five minutes.) Best thing to do is put those puppies in an iron skillet. Meanwhile, cook the brown sugar, butter and corn syrup in a small pot over medium heat, stirring occasionally, for a few minutes or until sugar is dissolved. Remove from heat; stir in vanilla and pecans.
Remove the bread pudding from the oven and drizzle with the caramel pecan sauce. Bake for five more minutes or until sauce is thoroughly heated. Serve warm with vanilla ice cream.
Categories: Desserts, Other Desserts
Submitted by: suzanne-mcminn on November 19, 2010