My family loves refried beans. As I tend to rush around a bit here with my obligations, I often end up…creating. Forgetting to soak seems to be my number one problem. Thus, I thought I'd share with you my funky way of speed cooking refrieds from scratch.
First, wash up (for my 7 L size pressure cooker) 6 cups of pinto, pink, or black beans, making sure rocks and clods of dirt are pulled before rinsing. (If you have a smaller pressure cooker, reduce the amount of beans and ingredients accordingly.)

Place them into the pressure cooker with 18 cups of HOT water. Because they haven't been soaked, they will need a lot of water in there. If you skimp on the water, the top layer of beans at the end of the cook time will be above the water level and you'll end up with those being much firmer. (Note: Soaking beans for several hours anyway? Then use 1″ more water than beans for water level in the cooker. Cook time adjusted to 25 minutes.)
Add in the following spices:
2 tablespoons Tones beef base
1/2 tablespoon ground cumin
1/2 teaspoon crushed red pepper flakes
2 tablespoons taco seasoning (I buy bulk from www.sfherb.com)
1 tablespoon onion powder (1/2 to whole onion pureed, depending on size)
6 cloves garlic, smashed
Optional: 2 tablespoons dry cilantro, crushed
1 tablespoon butter (to keep ingredients from foaming up too much)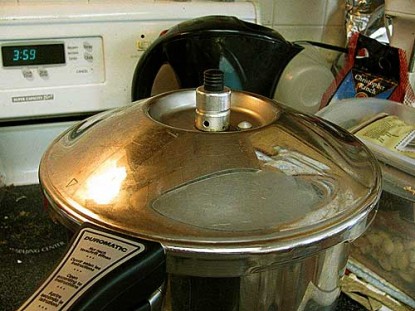 Bring up to 15 pounds pressure and cook for 60 minutes then take off the heat and do a natural cool-down. This is definitely about 4 times as long as you'd normally pressure cook soaked beans, but that has been the key to getting the skin silky smooth when mashing up and no slightly crunchy uncooked beans in the pot. Additionally, this is faster than just the soak we all normally do! If you cook even an extra 15 minutes–won't hurt the dish! We just need a minimum of 60 minutes at the 15 pounds. If your beans tend to take a bit longer to cook, take it up to 90 minutes, because you still have the cool down. (If you live down at sea level, your cooker might do 10 pounds pressure, and you can use that instead of 15 pounds. I'm up at 5000 feet.)

When the beans are done and able to be opened, evaluate first if the beans are definitely done and then if a LOT of water/juice is still in there (varies by age and dryness of the beans), remove to a bowl until the liquid is just barely below the top of the beans or it will be too runny. You can always add back in some of the cooking juices while pureeing. (Again, older beans can take a surprising amount of extra cooking to get them nice and soft. That is why I always double check doneness of the beans, as it is really easy to pop the lid right back on and cook another 15 minutes if needed.)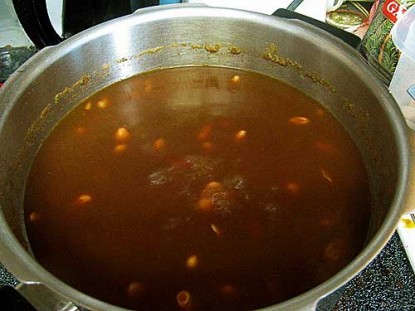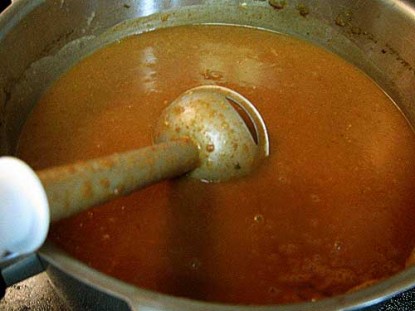 Now add in 1/2 cup pureed salsa (heat to your liking–I use homemade, medium heat) and 1 teaspoon salt (salt is to your taste–we don't use much). Adjust taco seasoning if you want it stronger. I use a stick blender to puree it until almost all beans are done. The beans will thicken up substantially as they cool a bit or when they are in the refrigerator until next use. This is where you play with it to your family's liking–more beef needed? More onion? More garlic? Since you cooked in a very flavorful pot, the beans just are immersed in the good bean flavor. Since they get cooked longer, the skins don't stand out with the texture. They reheat beautifully! Enjoy!!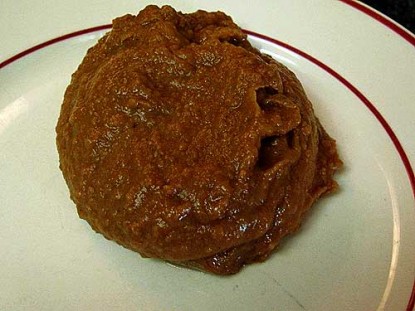 See the Speedy Beans recipe here for the handy print page and to save it to your recipe box.
You can also find Moopsee at Yahoo's Canning2.

Interested in contributing a guest post to the Farm Bell blog? Read information here for Farm Bell blog submissions.

Want to subscribe to the Farm Bell blog? Go here.