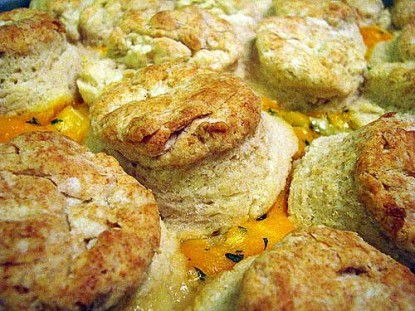 Difficulty: Easy
Servings: 8-10
Prep Time:
30 minutes
Cook Time:
1 hour
Ingredients
3 chicken breasts (cooked)
garlic powder, salt, pepper
1 10-ounce package frozen peas
1/2 cup carrots, diced
1 small onion, diced
3 small potatoes, diced
2 cans cream of chicken soup
1 15-ounce can chicken broth
1 cup cheddar cheese
dried parsley
18 biscuits (unbaked)
Directions
Note: Use whatever vegetables you have onhand. Celery would be great with this recipe, for example, as would any number of other veggies. This is an easy recipe to play around with to suit your personal taste and what's available in your pantry or fresh from the garden.
Cut up cooked chicken breasts. Grease a 9 x 13 casserole pan. Spread chicken over the bottom of the pan. Season to taste with garlic powder, salt, and pepper. Add peas, carrots, onions, and potatoes, spreading evenly over chicken. Spoon cream of chicken soup over chicken/vegetable mixture then pour broth over top. Sprinkle cheese, then parsley, over pan. Top with unbaked biscuits.
Bake, uncovered, at 450-degrees for 15 minutes. Decrease temperature to 350-degrees and cover pan. Bake for another 45 minutes.
Categories: Casserole, Leftovers, Main Dish, Poultry
Submitted by: suzanne-mcminn on November 21, 2010