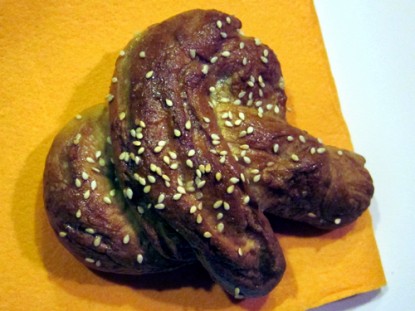 Original Recipe from www.joythebaker.com
Difficulty: Intermediate
Ingredients
1 tablespoon sugar
1 (1/4-oz) package active dry yeast (2 1/2 teaspoons)
3 3/4 to 4 cups all-purpose flour
1 large egg, lightly beaten
2 teaspoons pretzel salt or grill seasoning
1 heaping Tablespoon baking soda
Directions
Stir together sugar, yeast, and 1 1/2 cups lukewarm water (105 to 110°F) let stand until foamy, about 5 minutes.
Mix 3 1/2 cups of flour and salt. Add yeast mixture and mix until it forms a dough. Knead until smooth, but leave dough slightly sticky for easier pretzel formation.
Return dough to bowl and cover, let dough rise until doubled in bulk, about 45 minutes.
Turn out dough onto a clean work surface and cut into 8 equal pieces. Using your palms, roll 1 piece back and forth on a clean dry work surface into a rope about 24 inches long. If dough sticks to your hands, lightly dust them with flour. Twist dough into a pretzel shape. (Dough will retract as you form the pretzel.)
Transfer pretzel with your hands to an oiled baking sheet and form 7 more pretzels in same manner with remaining dough, spacing them 1 1/2 inches apart.
Let pretzels stand, uncovered, about 20 minutes. Meanwhile Preheat oven to 425°F.
Bring a wide 6-quart pot of water to a boil. Once boiling, add heaping tablespoon of baking soda. The baking soda will help the pretzels brown.
Carefully add 2 (maybe 3) pretzels, 1 at a time, to boiling water and cook. Cook about 1.5 minutes on each side. Use tongs to turn over pretzels.
Transfer parboiled pretzels to a rack to cool.
Line baking sheet with parchment paper and oil paper, then arrange pretzels on sheet. Brush pretzels lightly with some of egg and sprinkle with pretzel salt. Bake until golden brown and lightly crusted, about 35 minutes. Cool 15 minutes, then serve warm.
NOTES: I found my pretzels were done in 20 minutes, not 35.
Categories: Appetizers & Snacks, Breads, Yeast Breads
Submitted by: laree on November 1, 2010