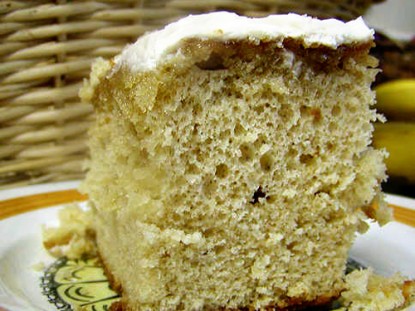 Easy Moist Pudding Cake
.
Difficulty: Easy
Ingredients
Basic ingredients for plain vanilla frosting for a standard large two layer cake:
4 cups powdered icing sugar
1/2 softened fat (butter, shortening, cream cheese)
1 teaspoon vanilla
water or juice in tiny amounts
Directions
Directions: ALL LIQUID IS TO BE ADDED LAST! Combine powdered icing sugar, vanilla and fat in mixer and process until fairly well mixed. Mixture will be dry and crumbly. Put in any desired additions here (see list below). Add water or juice, a tiny amount (1 teaspoon) at a time, mixing well after each addition until frosting has reached the desired consistency. Beat very well on high after all additions are made. If it is too wet and thin, add more sugar slowly.
Variations:
All additions are to be added and mixed in well before adding liquid (water or juice) to frosting. Be careful adding fresh fruit to frosting. Some fruits will turn it brown and need to be refrigerated. Most berries are OK in frosting.
Replace water with any fruit juice to match the cake.
Maple: add 1/2 cup maple syrup before adding water
Chocolate: Add 1 cup powdered cocoa before adding water. Decrease powdered icing sugar by 1/2 cup.
Fruit: add 1/2 chopped fruit and mix well, before adding juice or water.
Categories: Frostings & Icings
Submitted by: runningtrails on February 14, 2011