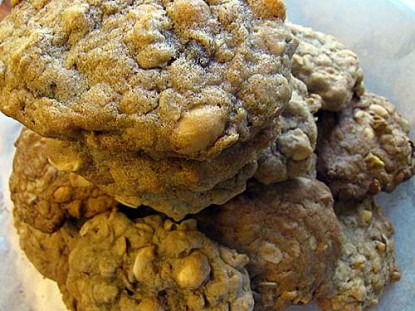 Difficulty: Easy
Servings: 2 1/2 to 3 dozen
Prep Time:
10 minutes
Cook Time:
7-9 minutes
Ingredients
3/4 cup shortening
2 cups packed brown sugar
1/2 teaspoon baking soda
1/4 teaspoon salt
2 eggs
1 tablespoon vanilla
1 1/2 cups all-purpose flour
2 cups old-fashioned oats
1 1/2 cups salted, roasted peanuts
Directions
Preheat oven to 375-degrees. In a large bowl, beat shortening with an electric mixer for 30 seconds. Add brown sugar, baking soda, and salt. Beat again, scraping sides. Beat in eggs and vanilla until combined. Add flour; beat. Stir in oats and peanuts. Bake on a greased cookie sheet at 375-degrees for 7-9 minutes.
Categories: Cookies & Bars, Desserts
Submitted by: suzanne-mcminn on September 11, 2010