Say hello to Jennifer from Southern NH!
Food interests: cooking, baking, learning to can
Hobbies: reading, cooking, gardening


Q. What are your favorite things to cook?
Those good old standbys that you know by heart how to make, without having to look at a recipe–brownies, roast chicken and Franconia potatoes, Thanksgiving dinner, Welsh rarebit, strawberry shortcake, spaghetti and meatballs, soup…. Things that make the house smell good, like it's giving you a hug when you walk in the door.

Q. How/when did you learn to cook?
Through osmosis, watching my dad and grandparents cook. I think the first thing Dad showed me how to make was scrambled eggs when I was about 5 years old. Then helping my grandparents in the kitchen when I would stay there on vacations and holidays. I really started to experiment with cooking as a pre-teen. As a very picky eater, the idea of cooking something how I wanted (no chunks of onions and peppers!) was very appealing.

Q. Tell us about some of your cooking triumphs.
For me, just making something that everyone really enjoys and requests again is a triumph.

Q. What was your most memorable cooking tragedy?
Oh, there have been a few…. Setting off the smoke alarms at 7 a.m. making spaghetti sauce, putting baking soda in corn bread instead of baking powder, over-cooking this or that, and I can't poach an egg to save my life.

Q. Describe your kitchen. Do you love it, hate it, and why?
I don't love it or hate it–it just is. Although I have a beautiful new window over my sink I can actually use now! More counter space, storage space and a wall oven are on the wish list.

Q. Is your pantry organized and are your kitchen drawers tidy? We need to know.
The pantry/cabinets aren't super organized, but I know where everything is. The drawers, on the other hand, are a mess–don't go there!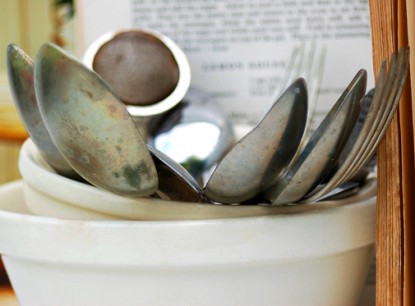 Q. Do you have any favorite family cooking traditions?
Thanksgiving dinner–always the same–turkey, stuffing (with apples, raisins or cranberries and sometimes sausage), mashed potatoes, gravy, baby peas, rolls, homemade cranberry sauce, pumpkin pie (with Grandma's secret ingredient), and deep dish apple pie.
I make a TON of Christmas cookies to give away every year like my grandmother used to (with her cookie press).

Q. What is the one gadget (or ten) you couldn't do without in your kitchen?
Tongs, food processor and wooden spoons.

Q. If you had to take one food to a deserted island, what would it be?
I don't think I could choose just one.

Q. What is your go-to comfort food?
Brownies with walnuts, wedge salad, macaroni and cheese, chicken parmesan, Bee's cheeseburger soup, chicken salad with Granny Smith apples and red grapes or sometimes just celery and dried cranberries, fresh baked–still warm–crusty bread and butter.
Some of Jennifer's favorite recipes that she's contributed to Farm Bell Recipes include:
See all of Jennifer's recipes!


Do you have a recipe post or kitchen-related story to share on the Farm Bell blog? See Farm Bell Blog Submissions for information and to submit a post.

Want to subscribe to the Farm Bell blog? Go here.