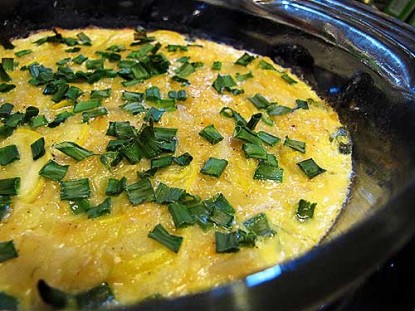 Difficulty: Easy
Servings: 6
Prep Time:
15 minutes
Cook Time:
30 minutes
Ingredients
2 cups (or so) sliced yellow squash or zucchini
1 cup chopped onions and/or peppers (hot or sweet)
2 tablespoons butter
1 egg
2/3 cup milk
1 cup bread crumbs
salt and pepper to taste
1 cup shredded cheese (Cheddar or whatever)
Directions
Depending on how big the squash/zucchini is, after slicing, either cut in halves or quarters. Cook the squash/zucchini and onions (and/or peppers) in butter till tender. Combine egg, milk, bread crumbs, and a dash of salt and pepper in a large bowl. Stir in the squash/zucchini mixture and the shredded cheese. Pour into a 1.5 quart greased casserole dish. Top with a sprinkling of fresh chopped chives if you've got 'em! Bake at 350-degrees for about 30 minutes.
Categories: Budget, Potluck, Side Dishes, Vegetables
Submitted by: suzanne-mcminn on June 27, 2011