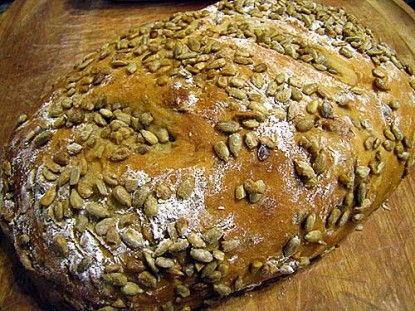 Difficulty: Easy
Servings: 1 loaf
Prep Time:
varies, depending on sponge time
Cook Time:
25 minutes
Ingredients
1 1/2 cups warm water
1 teaspoon yeast
1/4 cup honey
1 teaspoon salt
1 1/2 cups bread flour, divided
1 1/2 tablespoons olive oil
1 cup whole wheat flour
1/2 cup vital wheat gluten flour
1/2 cup roasted, salted sunflower seeds*
Directions
*More for coating the bread once it's shaped.
This is a Grandmother Bread recipe.
Make a sponge by placing the warm water in a large bowl. Add the yeast and sugar. Let sit about 5 minutes then mix in one cup of the bread flour and the salt. Let sit, covered, from two to twelve hours, the longer the better.
When you're ready to go on with the bread, add the 1 1/2 tablespoons olive oil then gradually add the whole wheat flour, the wheat gluten, the 1/2 cup of sunflower seeds, and the last 1/2 cup of bread flour, until the dough is stiff enough to knead. Knead dough until smooth and elastic–-a few minutes. Place dough in a greased bowl; cover. Let rise until more than doubled–let it triple if you have the time.
Dust with flour so you can handle the dough gently. Punch down the dough once, then fold the dough into the desired shape. You can bake it in a loaf pan, or bake it free-form. Scatter sunflowers seeds on the surface and sides of the loaf (if free-form) and lightly press them into the dough.
Let rise until doubled. For an extra rustic touch, dust the top with whole wheat flour then slash it. Bake at 350-degrees for about 25 minutes or until done (lightly browned). Let cool on a wire rack; slice and enjoy!
Categories: Breads, Yeast Breads
Submitted by: suzanne-mcminn on April 22, 2011