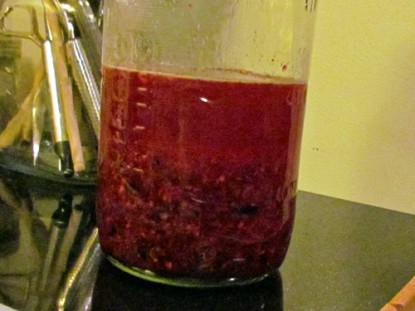 Difficulty: Easy
Servings: 1 Fifth
Prep Time:
10 min / Sit for 1-2 weeks
Cook Time:
3 min
Ingredients
1 pound fresh cranberries
1 cup sugar
1 vanilla bean, split (or 2 tsp vanilla extract)
750 mL vodka
Directions
Chop cranberries.
In pan on medium heat, add the cranberries, sugar, and vanilla extract or split vanilla bean. Heat until sugar is melted and it begins to boil (about 3-4 minutes).
Pour the cranberry mixture into a large jar.
Pour vodka over top. Stir and cover. Set aside in the pantry.
Give it a swirl every day for a week. I do sometimes leave it for 2 weeks, depending on my time limits.
After it's infused, strain through cheesecloth, then a coffee filter.
Store in the refrigerator.
Categories: Beverages, Gift Basket Goodies
Submitted by: cindyp on December 7, 2011