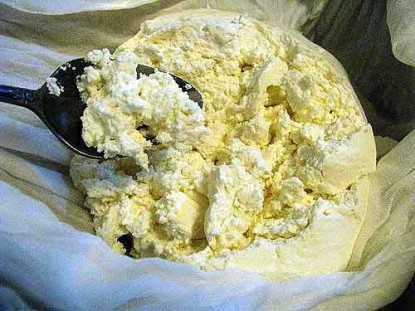 Difficulty: Easy
Servings: about 1 quart
Prep Time:
n/a
Cook Time:
20-30 minutes
Ingredients
1 gallon fresh whole milk
1 teaspoon citric acid
1 teaspoon cheese salt
Directions
Pour milk into a large stainless steel pot. Add the citric acid and cheese salt. Heat on medium-high until the milk reaches 195 degrees. Stir occasionally while heating. By the time it reaches 195 degrees, the milk will have separated into curds and whey. Turn off the heat and let the pot sit for about 10 minutes. Line a colander with the butter muslin. Using a large slotted spoon, transfer the curds to the muslin-lined colander. Hang and let drain for 30 minutes, or to desired consistency. Transfer the ricotta to a container and store in the fridge for up to two weeks.
Categories: Dairy, Homemade Cheese, Soft Cheeses
Submitted by: suzanne-mcminn on May 21, 2011