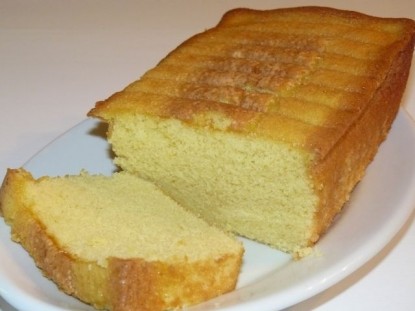 Difficulty: Easy
Servings: 8
Prep Time:
10
Cook Time:
25-30 minutes
Ingredients
2 eggs
1 cup sugar
1 cup flour
1 teaspoon baking powder
pinch salt
1/2 cup milk
2 Tablespoons butter
Flavoring of choice. I used 1/2 t. vanilla and 1/2 t. lemon flavoring
Directions
Whip eggs until thick and creamy. Add sugar a little at a time and whip until light and fluffy or lemon colored.
In small bowl whisk flour with baking powder and a pinch of salt. Add to egg and sugar mixture. Blend until flour disappears.
In small sauce pan, heat milk and butter just until butter melts. Slowly pour hot milk/butter mixture into batter and stir (not whip) until well blended, scraping down sides and bottom of bowl. Add flavoring of choice; I used 1/2 teaspoon vanilla and 1/2 teaspoon lemon flavoring.
Pour into well greased and floured loaf pan. Bake at 350° for 25 to 30 minutes. Mine took 30.
Categories: Cakes