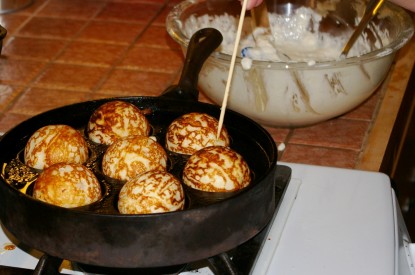 Difficulty: Intermediate
Servings: 21 pieces, serves 3-4
Prep Time:
8 minutes
Cook Time:
25 minutes
Ingredients
2 cups flour
2 teaspoons baking powder
1 tablespoon sugar
2 cups buttermilk
2 eggwhites, stiffly beaten
1/2 cup butter, melted
oil for pan
Directions
Combine flour, baking powder, and sugar in a large mixing bowl.
Add buttermilk, and briefly stir to make a lumpy batter.
Gently fold in well-beaten eggwhites until well-combined, but not deflated.
Dump melted butter over top of batter and gently stir just until combined.
Heat an aebleskiver pan over medium high heat until a droplet of water skitters on the surface. Put a little oil in each depression, then add batter to entirely fill cup.
Using a knitting needle (traditional) or wooden skewer (me), begin turning the aebleskivers one by one until they have all been rotated about 1/3rd of the way around. Rotate each again, then again. Continue cooking another minute or two until the outsides are nicely golden and the knitting needle comes out of the aebleskiver clean.
Remove aebleskivers to a large bowl in a warm oven, then re-oil pan and cook the second (then third/fourth/and so on) batch.
Serve hot with jam or jelly and powdered sugar sprinkled on top.
Making perfect spheres takes practice, but is worth the effort. Their flat cousins, the aeble-aren'ts, taste as good, but can't be truly called aebleskivers. Practice, practice, practice!
Categories: Breakfast, Griddles, Other Breakfast
Tags: Danish
Submitted by: katsat on May 4, 2010