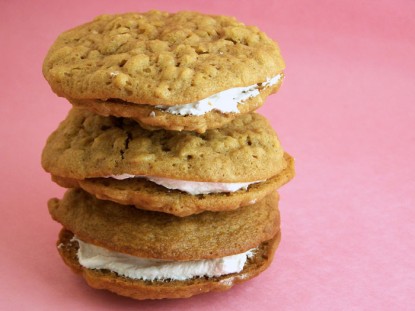 Difficulty: Easy
Servings: 1.5 - 2 dozen
Cook Time:
10-12 minutes
Ingredients
1 cup butter
3/4 cup dark brown sugar
1/2 cup sugar
1 tbsp molasses
1 tsp vanilla
2 eggs
1 3/4 cups flour (1 1/2 cups for silpat bakers)
1/2 tsp salt
1 tsp baking soda
1/8 tsp cinnamon
1 1/2 cups rolled oats
Cream Filling
2 tsp very hot water
1/4 tsp salt
1 (7 ounce) jar marshmallow cream
1/2 cup shortening
1/3 cup powdered sugar (I might increase this to 1/2 next time, I didn't think it was that sweet, but I have a major sweet tooth.)
1/2 tsp vanilla (will probably double this next time)
Directions
Combine flour, salt, baking soda, and cinnamon in a bowl.
In large mixing bowl, cream butter and sugars. Add in eggs, beating after each. Finally beat in molasses and vanilla.
Add to the flour mixture to creamed mixture and beat until just blended; mix in the oats with a wooden spoon.
Drop dough by tablespoons (seriously, don't go bigger than this, they spread out) on parchment lined sheets, with plenty of space in between. (I fit three across on my commercial sized baking sheet, two for a regular sized baking sheet.) Bake at 350 degrees (F) for 10-12 minutes, or until just starting to brown around the edges. They will look moist; don't overcook (10 minutes was perfect for me). Let sit on cookie sheet for about 5 minutes and then transfer to wire racks to cool completely.
While the cookies bake prepare the filling. In small bowl, dissolve the salt in the hot water. Set aside and allow this to cool.
Combine marshmallow cream, shortening, powdered sugar, and vanilla in a bowl; mix on high until fluffy (it never really rises like an egg-white based frosting, but you can tell it's fluffier after 3-4 minutes).
Add the cooled salt water and mix well.
Spread filling on flat side of one cookie, press 2nd cookie on top.
Categories: Cookies & Bars, Desserts
Submitted by: emiline220 on April 28, 2010