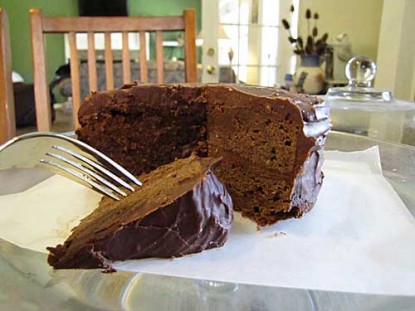 Reine de Saba
, a magnificent chocolate and almond cake, from Julia Child's Mastering the Art of French Cooking (Vol. 1).
Difficulty: Intermediate
Servings: 8
Prep Time:
45 minutes
Cook Time:
25 minutes
Ingredients
4 ounces semi-sweet chocolate
2 tablespoons rum or coffee
1/2 cup butter, softened
2/3 cup granulated sugar
3 egg yolks
3 egg whites
pinch of salt
1 tablespoon granulated sugar
1/3 cup pulverized almonds
1/4 teaspoon almond extract
1/2 cup cake flour
Directions
Note: This is the one-layer quantity. Double for a two-layer cake.
Butter and flour cake pan. I used two 6-inch cake pans and I like to cut out a piece of parchment paper to fit in the bottoms. Makes cakes come out so nicely.
Set the chocolate and rum or coffee (I used Bacardi Gold) in a small pan, cover, and place (off heat) in a large pan of almost simmering water; let melt while you proceed with the recipe. (Honestly, I just put the chocolate straight in a pot and melt on low.) Measure out the rest of the ingredients.
Cream the butter and sugar together for several minutes until they form a pale yellow, fluffy mixture. Beat in the egg yolks until well blended. Beat the egg whites and salt in a separate bowl until soft peaks form; sprinkle on the one tablespoon of sugar and beat until stiff peaks are formed.
Blend the melted chocolate mixture into the butter mixture then stir in the pulverized almonds and almond extract. (Pulverize the almonds in a blender or food processor.) Immediately stir in one-fourth of the beaten egg whites. Delicately fold in a third of the remaining whites and when partially blended, sift on one-third of the cake flour and continue folding. Alternate rapidly with more egg whites and more cake flour until all the whites and flour are incorporated.
Transfer batter to pan (or pans) and bake at 350-degrees for about 25 minutes. (For two 6-inch pans, I baked for 15 minutes.) Cake is done when puffed. (Do the toothpick test.)
Allow to cool in pans for 10 minutes then remove and cool on a wire rack. Ice with Glacage au Chocolat (Chocolate-Butter Icing).
Glacage au Chocolat:
2 ounces semi-sweet chocolate
2 tablespoons rum or coffee
6 tablespoons unsalted butter, softened
Melt chocolate with rum or coffee until smooth. Beat in butter a tablespoon at a time. Cool (or chill) until of spreading consistency.
Note: Julia recommends that this quantity of icing was sufficient for the one-layer quantity of Reine de Saba, just to spread across the top. I like icing, and I made two 6-inch layers, so I doubled this recipe. If I doubled the cake recipe for two 8-inch layers, I would quadruple this icing recipe for a two-layer cake of that size.
Categories: Cakes, Desserts, Entertaining, Gourmet, Holiday
Submitted by: suzanne-mcminn on April 3, 2012