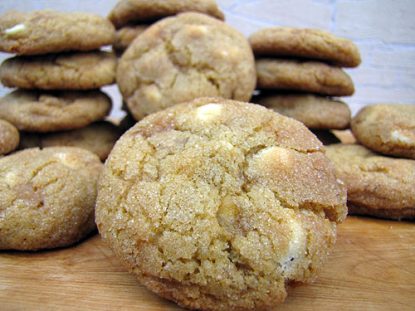 Difficulty: Easy
Servings: 3 dozen
Prep Time:
10 minutes
Cook Time:
8 minutes
Ingredients
1 cup butter (or margarine)
1 cup packed brown sugar
1/2 cup sugar
2 eggs
1 teaspoon vanilla
1/2 teaspoon baking soda
2 1/2 cups flour
1 12-ounce package vanilla baking chips
1/2 cup toffee bit (Heath Bar bits)
Directions
Mix together butter and sugar; add the eggs, vanilla, and baking soda, then stir in the flour a cup at a time until you've got it all mixed well. Gently stir in the vanilla chips and toffee bits. Chill the dough for at least an hour. Shape dough into balls then roll in sugar. Chill again, at least one hour, more is better. If you're in a hurry, put the cookie balls in the freezer for about half an hour. Cold dough holds shape better in the oven.
Bake in a preheated 375-degree oven for about 8 minutes or until lightly browned.
Categories: Cookies & Bars, Desserts
Submitted by: suzanne-mcminn on February 20, 2017