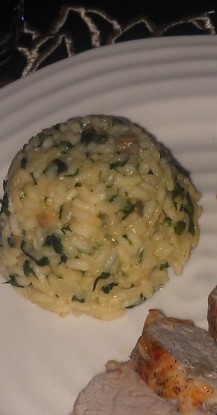 Difficulty: Intermediate
Servings: 4-5
Prep Time:
10 mins
Cook Time:
25-30
Ingredients
1 cup orzo
1 med. onion, diced
5 – 6 mushrooms, diced-enough to make about 1/3 c.
1/3 c. Swiss chard (mine was frozen, so I chopped it up a little bit)
1 3/4 chicken broth
Beer (doesn't matter what kind, but ales and dark beers give more flavor. I used Coors the last time and it was just fine)
1 Tbsp unsalted butter
1 Tbsp olive oil
1/3 – 1/2 c. shredded Parmesan cheese (grated doesn't work well, so use the shredded kind)
Directions
Melt butter and olive oil in medium pan. Saute the mushrooms for about 3 minutes. Add onion and saute until translucent. Remove veggies from pan for this next step. You may need to add a little more olive oil if it seems the veggies have absorbed it all. Add orzo to the pan and let roast until it is slightly translucent and pearl-like. Add back in the mushrooms and onions and stir.
At this point, turn up the burner a little bit and add 1 cup of chicken broth. Continue stirring until the orzo has absorbed the broth, add chard at this point and mix in. Open your beer, take a swig and then give the orzo a swig! I then add 1/2 c. more broth and stir and let absorb in, then add one more generous swig of beer to the orzo and the rest of the broth.
Turn down the heat a little and let orzo absorb the last of the liquid. At this point, taste it to make sure the orzo isn't crunchy and is 'al dente.' Add in the Parmesan and stir gently.
Serve immediately. Makes about 4 servings.
Categories: Beans, Grains & Rice, Other Main Dish, Side Dishes
Tags: Italian
Submitted by: kbrenna on April 3, 2012