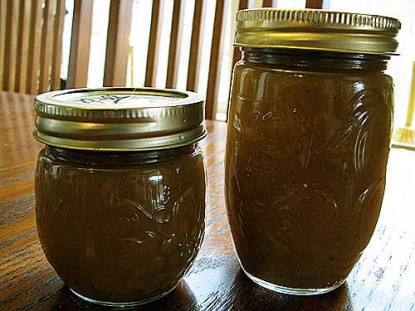 Difficulty: Easy
Servings: multiple
Prep Time:
30 minutes
Cook Time:
30 minutes
Ingredients
1 16-ounce can solid pack pumpkin or 2 cups fresh pumpkin puree
1/3 cup lemon juice
3/4 cup sugar
1 teaspoon ground ginger
1 teaspoon cinnamon
1/2 teaspoon nutmeg
1/4 teaspoon ground cloves
Directions
Combine ingredients in a medium-size saucepan and bring to a boil. Reduce heat, simmer for 30 minutes, stirring every few minutes. Let cool. Spoon into jars and keep refrigerated, or freeze in freezer containers. For me, this cooks out to 20 ounces.
By the way, after mashing my pumpkin, I also run it through the blender to make it super smooth. You want it very smooth for butter. As another aside, you can make this recipe using any winter squash such as cushaw or butternut.
NOTE: Home canning pumpkin butter or any mashed or pureed pumpkin or winter squash is not recommended. But that doesn't mean you can't make it! You can refrigerate it to use within a week or two, or freeze it for longer storage.
Categories: Condiments, Freezing, Other Condiments, Preserving
Submitted by: suzanne-mcminn on June 6, 2010