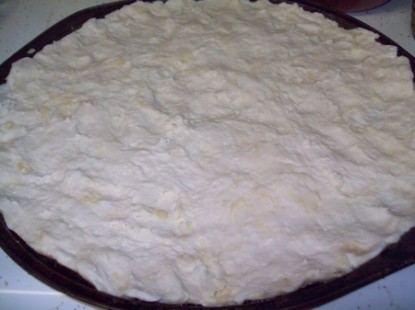 Difficulty: Easy
Servings: 1-2 pizzas depending how you like your crust
Prep Time:
Approx. 5 minutes
Cook Time:
15-20 minutes
Ingredients
1 package active dry yeast (2-1/4 tsp.)
1 cup warm water
1 teaspoon sugar
1 teaspoon salt
2 Tablespoons oil
2 1/2 cups flour
Directions
Grease 2 pizza pans (don't use oil).
Dissolve the yeast in warm water. Mix in rest of ingredients in order given. Let sit in a covered bowl for 5 min.
Divide dough in half. Plop half the dough in center of each pan and spread to edges with your hands. If the dough is too sticky, add a little flour. You can also butter your fingers.
Spread your Pizza Sauce on and add your choice of meats, vegetables and cheese.
If you want a thin crust, cook it now.  If you want a thick crust, cover the pizza with Saran wrap and let rise on top of the stove for an hour.
Bake at 400 degrees until done about 15 min.
** I didn't separate the crust for 2 pizzas. After the 5 minutes of letting the dough sit, I put the whole amount of dough on my round pizza pan…it was perfect!
Categories: Breads, Pizza Crusts
Submitted by: nataliecyphers on June 6, 2010