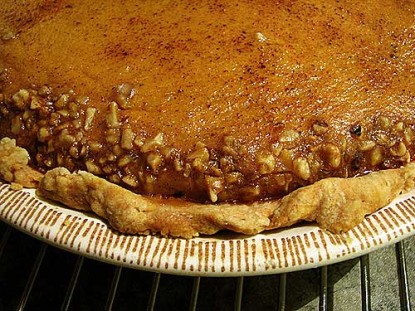 Difficulty: Easy
Servings: 8
Prep Time:
5 minutes
Cook Time:
50-55 minutes
Ingredients
16-ounce canned pumpkin or fresh pumpkin puree
3/4 cup brown sugar
1 teaspoon ground cinnamon
1/2 teaspoon ground ginger
1/2 teaspoon ground nutmeg
1/2 teaspoon salt
3 eggs
12-ounce can evaporated milk
2 tablespoons dark rum
pastry for single-crust pie
3/4 cup chopped walnuts
Directions
In a large mixing bowl, combine pumpkin, brown sugar, cinnamon, ginger, nutmeg, and salt. Whisk eggs then add to pumpkin mixture along with milk and rum. Mix well. Pour into prepared pie shell. Sprinkle the chopped walnuts all around the edge of the pie. Bake at 375-degrees on the lower oven rack for 50-55 minutes (until a toothpick inserted in the center comes out clean).
Categories: Desserts, Entertaining, Holiday, Pies
Submitted by: suzanne-mcminn on June 6, 2010