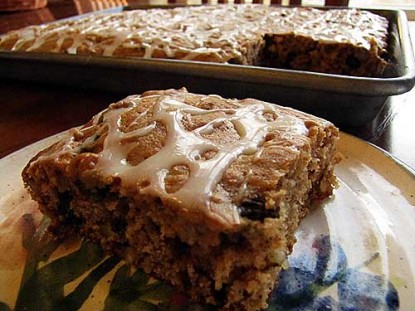 Difficulty: Easy
Servings: 12 or more
Prep Time:
20 minutes
Cook Time:
20 minutes
Ingredients
1 cup raisins cooked in 1 1/2 cups water
1 cup liquid from raisins
1/2 cup shortening dissolved in hot raisin sauce
1 egg
1 cup sugar
1 teaspoon cinnamon
1/2 teaspoon cloves
2 cups all-purpose flour
1/2 teaspoon nutmeg
1 teaspoon baking soda
1 cup chopped nuts (I use walnuts)
Directions
Cook raisins and drain, reserving raisin sauce. Dissolve shortening in hot raisin sauce. Beat egg and sugar in a medium-size bowl. Combine all ingredients together with the egg/sugar mixture. Mix well. Pour onto a greased flower cookie sheet. Bake 20 minutes at 375 degrees. Cool then ice with a glaze or just sprinkle powdered sugar on top. Cut into bars.
Categories: Cookies & Bars, Desserts
Submitted by: dlstein on May 4, 2010