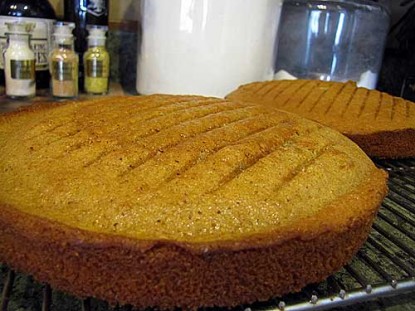 Difficulty: Easy
Servings: 12
Prep Time:
15 minutes
Cook Time:
varies
Ingredients
2 cups all-purpose flour OR 2 1/4 cups cake flour
1 1/2 cups sugar
1 teaspoon baking powder
1 teaspoon baking soda
1 teaspoon ground cinnamon
1/2 teaspoon ground nutmeg
1/2 teaspoon ground cloves
1/2 teaspoon ground ginger
1 cup milk or buttermilk
1/2 cup butter (or margarine)
1/2 teaspoon vanilla
3 eggs
Directions
In a bowl, combine flour, sugar, baking powder, baking soda, and spices. Add milk or buttermilk, butter, and vanilla. Beat with an electric mixer on low to combine then on high for 2 minutes. Add eggs and beat 2 more minutes. Pour batter into greased, floured pans. Bake at 350-degrees.
Bake times:
8″ or 9″ cake rounds — 20-25 minutes
13 x 9 pan — 35-40 minutes
cupcakes — 12-15 minutes
tube/bundt pan — 45-50 minutes
Cool on a wire rack. Ice with cream cheese frosting. (Find cream cheese frosting here.
Submitted by: suzanne-mcminn on April 11, 2011