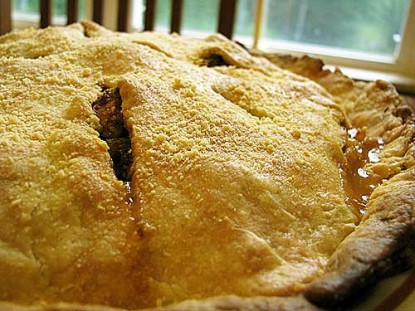 Difficulty: Easy
Servings: 8
Prep Time:
20 minutes
Cook Time:
45-60 minutes
Ingredients
1 pound lean ground beef
1 large onion, chopped
1 pint Oliverio Italian style Peppers (Medium Hot) in Sauce Olvero
Baby portobello mushrooms (six or seven, cut into chunky pieces)*
¼ pound sharp Cheddar cheese, diced
Parmesan, shredded
pastry for double-crust pie
Directions
*I have made this pie using an 8-ounce package of regular button mushrooms, sliced, and this also works fine.
Brown ground beef, adding onion toward the end. Drain. In a large bowl, add peppers, mushrooms, and diced Cheddar. Add some shredded Parmesan. (I throw in about a quarter cup.) Mix together. Pour into unbaked pie shell, add top, and cut vents. Bake at 425-degrees for 15 minutes, and then at 375 until crust is brown. (You may want to cover it with foil after the first 15 minutes–I just bake it on the lowest oven rack and I'm fine without covering it.) Total cooking time is around 40-45 minutes. Sprinkle top with extra Parmesan during the last few minutes of baking time. Let set 10 minutes before serving.
Note: I make this pie with beef and Italian peppers all the time and we love it, but I've modified the recipe gradually to suit my family. I've dropped the mushrooms and onions (my kids don't go for that, and portobello mushrooms just aren't something I keep on hand). I use the larger size jar of peppers and more cheese. Here's how I make it:
1 pound browned, drained ground beef
25.5 ounce Oliverio Italian style Peppers (Medium Hot) in Sauce Olvero
1/2 teaspoon garlic powder
1/4 teaspoon salt
1 cup shredded cheddar (or other cheese)
Combine and spoon into your pie shell. Add top crust. Bake at 350-degrees for one hour. Wonderful! Not only is it easy and delicious–my kids will eat it! Make it to suit your own family.
Submitted by: suzanne-mcminn on April 5, 2011