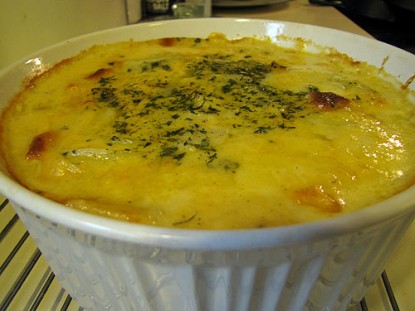 Difficulty: Easy
Servings: 8
Prep Time:
20 minutes
Cook Time:
30 minutes
Ingredients
6 cups thinly sliced potatoes
1/4 cup butter or margarine
1/4 cup flour
pepper
garlic salt
2 1/2 cups milk
Directions
Optional:
1/2 cup diced onions or peppers*
1 1/2 cups shredded cheese (any kind)
*You can combine onions and peppers, or just one or the other.  Peppers can be sweet or hot.
For thinly sliced potatoes, parboiling only takes a couple of minutes.  The edges will be cooked but the centers should still be firm.  Take them off the heat and drain the water.  Set aside.
In a sauce pan, melt the butter.  If adding onions and/or peppers, add them now while the butter is melting to saute them.  Stir in the flour to make a roux.  Add pepper and garlic salt to taste.  Gradually add milk, a little at a time, stirring as you go to make a sauce that is not lumpy.  Cook and stir til thickened and bubbly.
If adding cheese, add it after the sauce is ready.  You can just turn off the heat and let the cheese melt as you stir.  Use any kind of cheese.   Try shredded Swiss or Monterey Jack.  Think outside the Cheddar or American!
Lightly grease a 1 1/2 quart casserole dish.  Add one-third of the potatoes, then one-third of the sauce.   Repeat until the sauce and potatoes are all in the dish.  I like to top it with some dried parsley.
Use any kind of herbs, or french fried onions, or some seasoned bread crumbs for the topping.  Bake at 350-degrees, uncovered, for 30 minutes.  Serves 8.
Categories: Casserole, Entertaining, Holiday, Kid-Friendly, Potatoes, Potluck, Side Dishes
Submitted by: suzanne-mcminn on September 12, 2013