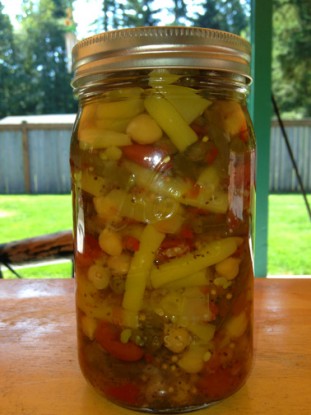 Difficulty: Easy
Servings: approx 6+ quarts
Prep Time:
approx 2 days
Cook Time:
approx 45 minutes total (3x 15min.each)
Ingredients
6-8 C green and wax beans (combined)
2 C garbanzo beans (previously soaked)
2 C kidney beans (previously soaked)
1 large onion, chopped
1 large red bell pepper, chopped
2 1/2 C sugar
3 C white vinegar 5%
1 1/4 C water
4 tsp pickling salt
1 T ground mustard (or mustard seed)
1 T celery seed
Directions
1. Soak your Kidney beans and Garbanzo beans for at least 24 hours changing the rinse 1-2 times during the soaking process. When soaking is complete rinse beans well, set aside.
2. Clean and blanch your green beans and yellow wax beans for 3min. drain, cool, cut into 1 1/2-2″ pieces then set aside.
3. Wash and de-seed your red pepper, chopped to approx. 1/4″ in size along with the onion. Set aside.
4. Combine the vinegar, sugar, water, salt, celery seed & mustard powder (or mustard seed)in large pot and bring to a simmer, then add in all beans pepper and onion bring back to a simmer.
5. Remove from heat, let cool for approx. 1 hour, then place in large bowl, cover and refrigerate 12-14 hours to allow the vinegar to absorb into the beans allowing for a safe water bath canning process.
6. When the beans have finished marinating, prepare your canning items.
Start with filling your water bath canner pot 3/4 full and start the water boiling, this allows you time to prepare the canning supplies you'll need.
You need to have 6 quart jars (? an xtra pint jar as well, I do!)cleaned & sterilized with lids and rings. ( I wash my jars lids and rings in hot soapy water then rinse, then I place my jars and rings into the oven and turn oven onto 225 degree until preheated then turn off, this allows jars and lids to remain hot until needed. I place the lids in a pot cover with water and lightly simmer to stay hot and allowing rubber ring to soften allowing for a good seal on jars.
7. Place the bean mixture back into a pot and bring to a boil, then turn off heat and fill hot jars with hot mixture, wipe off rim of jars, place hot lids and rings gently hand tight and place in water bath canner for 15 minutes.
8. When lids pop (seal)and jars have cooled, place in cool dark room for storage up to a year. Any lids that did not pop (seal, when pushed on with finger the lid pops up and down) place in refrigerator, they will keep there for several months.
**Note-Not having enough green beans, or wax beans to harvest all at once for this recipe, I picked and blanched my beans then froze them until I had enough for a batch to can. I took them out to thaw the morning I needed them, let them thaw. They worked great!! soaking in the vinegar mix for the 12-14 hours firmed them back up nicely.
Everyone who tastes this recipe goes nuts over it:) I cant make it fast enough to store any!
Categories: Beans, Grains & Rice, Boiling Water Bath, BWB Pickles & Pickled Stuff, Canning, Condiments, Gluten-Free, Salads
Submitted by: pegilyn on September 15, 2014