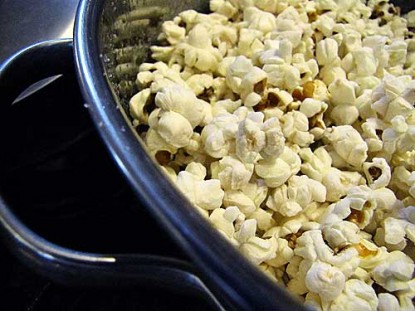 Difficulty: Easy
Servings: varies
Prep Time:
1 minute
Cook Time:
3-4 minutes
Ingredients
1/4 cup vegetable oil
2/3 cup popcorn kernels
salt to taste
butter to taste
Directions
Put 1/4 cup vegetable oil in the bottom of a large pot. Place three popcorn kernels in the pot. (For this size recipe, I use a 5-quart pot. For a smaller recipe, cut the measurements in half.)
Turn the heat to medium-high. Watch for the kernels to pop. Add 2/3 cup popcorn and the salt, put on the lid, and remove the pot from the heat for 30 seconds. This allows the rest of the popcorn to warm up before returning to heat, which will mean fewer unpopped kernels in the end. Note: Adding the salt before popping helps evenly distribute the salt throughout the popcorn. I use two teaspoons of salt. If I'm going to be adding sugar, I add it later, after the popcorn is popped, unless I'm making Kettle Korn and want to "burn" the sugar, in which case you'd add it before popping.
Put the pot back on medium-high. Using oven mitts to hold the pot, begin shaking the entire pot over the burner. Try to hold the lid on the pot as you shake so that the cover is just slightly cracked–this helps vent steam and make your popcorn crisp.
Continue shaking the pot until you don't hear kernels popping anymore. Remove from heat.
Categories: Appetizers & Snacks, Budget, Kid-Friendly, Old-Fashioned, Tips & Tricks
Submitted by: suzanne-mcminn on January 6, 2011