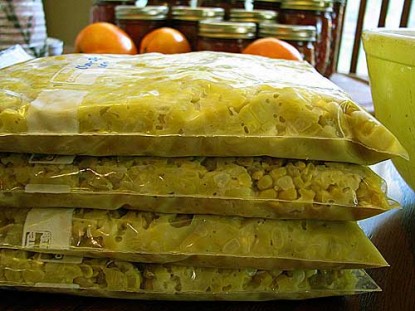 Difficulty: Intermediate
Servings: varies
Cook Time:
1 hour 25 minutes
Ingredients
fresh corn
Directions
Blanch ears 6-10 minutes (less for small ears, more for large). Drain and cool. Cut kernels off, but not quite all the way down to the cob. Scrape the cob for the "cream" and corn pulp. Break up strips of corn kernels.
Freeze immediately in freezer baggies or containers, leaving 1/2-inch headspace.
To pressure can, measure the cream-style corn (kernel, pulp, and "cream" together). Add 1/2 teaspoon salt (optional) and 1 1/4 cups water per pint of corn. Boil three minutes. Ladle into prepared jars, leaving 1-inch headspace. ONLY PROCESS IN PINTS. PC 1 hour and 25 minutes at 10 pounds pressure.
Categories: Canning, Freezing, Preserving, Pressure Canning, Side Dishes, Vegetables
Submitted by: suzanne-mcminn on August 9, 2010