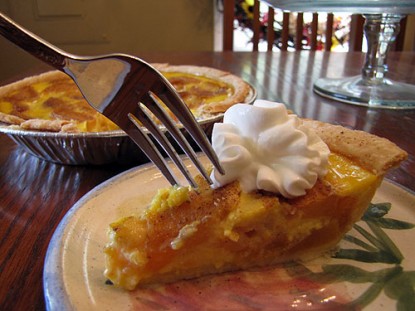 Difficulty: Easy
Servings: 8
Cook Time:
40-50 minutes
Ingredients
3 or 4 peaches, depending on size
unbaked 9-inch pastry shell
2 eggs, beaten
1 cup milk
3/4 cup sugar
1 tablespoon flour
few grains salt
few drops almond extract, if desired
Directions
Peel peaches, cut in halves, and remove stones. Arrange, cut side up, in the unbaked pie shell. (These are the instructions, straight from the book, with my notes.) My note: Really? We're putting peach halves in the pie? That just sounds so unappealing to me. Big lumps of peaches that will have to be cut up later as you attempt to inhale the pie. Maybe the big lumps represent the "blossom" part of the pie, but I just didn't like that idea. I decided to slice the peaches and scatter them evenly over the bottom of the pastry shell. Meta might not approve, but it just seemed more attractive and more appetizing to me. And the better to inhale the pie later. I used four medium peaches.
Beat eggs well, add milk, and stir in sugar, flour, and salt, which have been mixed together; add the almond extract if it is used. My note: A few grains of salt? I've seen recipes call for a dash or a pinch, but a few grains? That seems somewhat picky and a little tedious. I went with a pinch.
Pour over the peach halves. My note: I sprinkled grated fresh nutmeg over the top after pouring in the custard mixture.
Bake in a moderately hot oven (400-degrees) for 10 minutes; then reduce heat to moderately slow (325-degrees) and continue baking 30-40 minutes longer, or until a sharp knife inserted in the custard comes out clean. My note: I always bake pies on the bottom oven rack. This guarantees a well-baked crust and avoids over-browning the top edges.
Serve warm or cold, with whipped cream if desired. 5 or 6 servings. My note: Or 1.
Categories: Desserts, Pies, Puddings & Custards
Submitted by: suzanne-mcminn on July 26, 2013