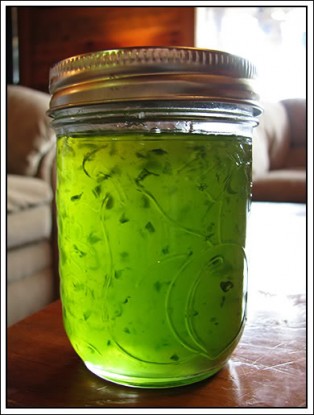 Difficulty: Intermediate
Servings: -
Ingredients
3/4 c. bell pepper (green or red, your choice)
1/4 c. jalapeno peppers (can adjust to your liking)
1 1/2 c. apple cider vinegar
6 c. sugar
1 (4-oz) pkg. Certo
4 drops food coloring (green or red)
Directions
Very finely chop peppers (food processor works great for this).
Mix peppers, sugar and vinegar in a large saucepan on medium/low heat. Bring to a rolling boil. Remove from heat. I usually very quickly skim some of the pepper peeling pieces from the top at this point. It makes the jelly prettier.
Add Certo and food coloring. Stir until jelly starts to thicken.
Pour into hot, sterilized jars and seal. Process in a hot water bath for 10 minutes.
Categories: Appetizers & Snacks, BWB Jams, Jellies, Butters & Preserves, BWB Vegetables, Canning, Condiments, Dips, Preserving
Submitted by: kentuckyfarmgirl on May 11, 2010