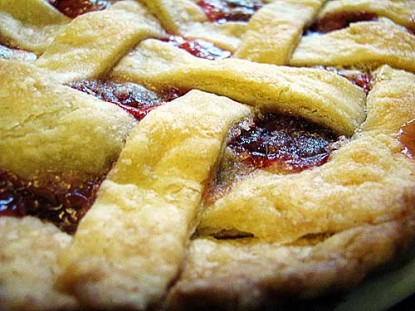 Difficulty: Easy
Servings: 8
Prep Time:
20 minutes
Cook Time:
30 minutes
Ingredients
pastry for one double-crust pie
1 cup white sugar
1/3 cup all-purpose flour
1/2 teaspoon ground cinnamon
4 cups fresh strawberries, halved
1 tablespoon butter
Directions
Prepare crust, lining a greased pie pan with the bottom pie crust. Combine sugar, flour, cinnamon, and strawberries. Pour filling into pastry-lined pan, and dot with butter. Cover with top crust in lattice-fashion. Crimp edges. Bake for 30 minutes at 375 degrees on the bottom oven rack.
Categories: Desserts, Fillings, Pies
Submitted by: suzanne-mcminn on June 9, 2010