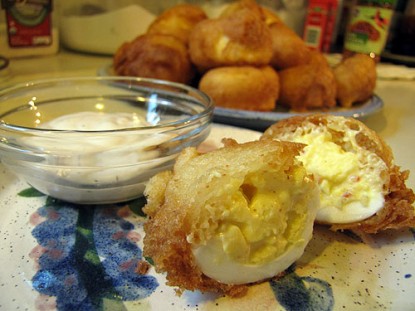 Difficulty: Easy
Servings: 1 dozen
Prep Time:
1 hour
Cook Time:
3-4 minutes frying
Ingredients
6 hard-boiled eggs
For the deviled eggs:
6 hard-boiled eggs, sliced lengthwise with yolks separated
1/4 cup mayonnaise
1 teaspoon prepared mustard
1 teaspoon white vinegar
salt and pepper to taste
For the beer batter:
1 cup baking mix
1 teaspoon garlic salt
1 teaspoon cayenne pepper
1 egg
1 cup beer
oil for frying
Directions
For the deviled egg filling: Set aside egg white halves after scooping out cooked yolks. Mash yolks in a small bowl. Add mayonnaise, mustard, vinegar, salt and pepper; mix well. (I added some horseradish, pickle relish, and red pepper flakes to make it spicy.) Pipe or spoon filling into egg halves.
For the batter: Combine all the ingredients in a medium-size bowl. Dip the deviled eggs one at a time into the batter and shake off the excess. Fry in hot oil in a deep pot for about 3-4 minutes or until the batter is fried and lightly browned, turning as needed. Remove with a slotted spoon and drain on a paper towel. Serve with a dip such as Ranch dressing.
Categories: Appetizers & Snacks
Submitted by: suzanne-mcminn on March 21, 2014